Business Case for Diversity and Inclusion: A Quick Guide
We take a fresh look at the ever-expanding business case for inclusion and diversity.

This article examines the numerous advantages of creating an inclusive culture and embracing diversity, including business success, increased productivity, talent attraction, and loyalty building. Continue reading to learn more.
Why is diversity important for business?
Some of you may be wondering why we are still asking this question; haven't we had this conversation? Maybe, but its important to take time to reflect and recalibrate so we are in the best position to have these meaningful conversations within our organisations and the start of a new year feels like the ideal time to do this.
It has been well documented that diverse and inclusive organisations are typically more successful. Whether including more women at a senior level, realising the full potential of Black and minority ethnic workers, or simply being considerate of those with poor mental health, workplace inclusion and diversity can be a catalyst to business growth and success.
Research by Forbes tells us that decisions made and executed by diverse teams delivered 60% better results and inclusive teams make better business decisions 87% of the time.
When you think about it, it's not rocket science. A diverse group of people will bring a diversity of skills and experiences, different perspectives, and, collectively, better problem solving and more ideas.
As we are in a reflection space, think about how your organisation talked about inclusion in 2021, how can you use the business case research to turn up the volume in 2022?
Organisations with women at the top are more profitable
In the past five years, we have seen very little progress towards gender parity. The Covid-19 pandemic has created a further setback with one in four women considering leaving the workforce compared to one in five men.
However, there's a lot of data that shows organisations with more women in top roles are more profitable. McKinsey research highlighted that organisations with fewer than 20% of women at exec level reported decline, flat or slow profitability. In fact, there is a 48% performance differential between the most and least gender-diverse companies.
Diversity in leadership is essential not only for providing equal opportunities for all, but also for fostering talent, drive, and success. Women and other underrepresented groups must be given equal access to opportunities so that they can reach their full potential.
These compelling stats are driving organisations to look at why women are leaving or not progressing their careers, including looking at parental policies and flexible working to address the 17% of women who leave employment completely following childbirth. Truly inclusive organisations are also recognising the impact of menopause in the workplace, which affects 50% of employees.
Consider what your Gender Pay Gap is telling your organisation; take this further by looking at your recruitment and retention data, who is getting promoted and how? Use this information to help strengthen the business case and highlight the cost of not getting this right.
Ethnic diversity is important to business success
Although the benefits of gender diversity are often more widely reported, McKinsey research in 2014 and again in 2017 indicates that there is a higher likelihood of outperformance difference with ethnicity than with gender.
Black and minority ethnic individuals in the UK are both less likely to work and progress in the workplace, compared with white individuals. In Britain, we lose £24 billion annually in failing to bring talented Black or minority ethnic professionals into the workforce.
It's important to think about what barriers exist in your organisation, from entry to board level, that prevent everyone from reaching their full potential. Our anti-racism toolkit includes how-to guides to support your work to build an anti-racist culture.
Ask yourself if you have a full picture of your workforce's ethnicity; if you don't is this a good place to start in 2022? If you do, how are you using this rich information to shape your inclusion action plan?
Job seekers are looking for diverse workplaces
In today's competitive recruitment market we need to work hard to attract the best candidates to our organisations. People are considering organisational culture more than ever before and 76% of job seekers report that a diverse workforce is an important factor when evaluating companies and job offers.
If you are attracting diverse talent but they're not staying, you need to find out why. Cultural inclusiveness in the workplace is crucial. There is little point in attracting people into a culture that won't include or support them; the culture shift needs to come first.
There is a need for safe spaces and environments
Having a culture where people feel included, appreciated, and safe will have a positive impact on productivity. We encourage employers to create safe spaces where everyone can be included and bring as much of themselves to work as they choose.
As well as improved productivity and profitability, providing a psychologically safe environment can bring other benefits for organisations, including improved engagement, increased trust, and better teamwork.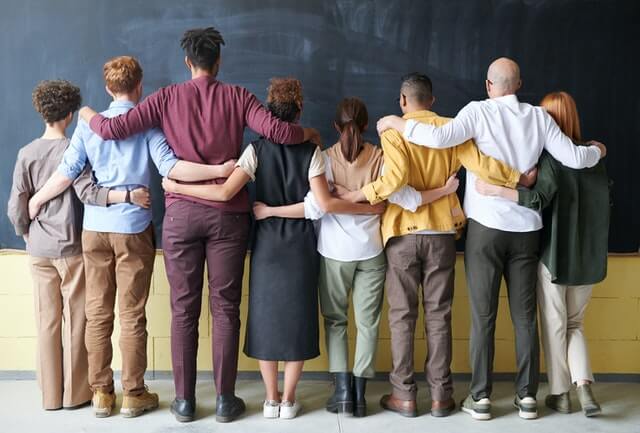 LGBT job seekers consider policies on diversity, equality, and workforce inclusion
Studies have shown that the LGBTQ+ talent pool is well-educated, more engaged than average, and often highly empathetic. Clear LGBTQ+ inclusion is an increasingly powerful business differentiator for organisations and more than 60% of LGBTQ+ employees believe that being 'out' at work has improved their ability to do business and engage with customers.
In a competitive labour market, LGBTQ+ inclusion is also a talent differentiator – more than 80% of employees believe that having an openly supportive focus on LGBTQ+ has provided their organisation with wider access to the best talent. Look at your internal and external communication platforms – be really honest with yourself – does your organisation have an authentic supportive LGBTQ+ focus?
Why I&D is important to Millennials and Gen Z job seekers
The expectations of Gen Z and Millennials and their expectations in terms of inclusion and diversity are different from previous generations. These groups will actively look at employers through an inclusion lens, with 83% of Gen Z candidates stating that a company's commitment to diversity and inclusion is important when choosing an employer.
In addition, these generations are reported to be more actively engaged with an organisation that fosters an inclusive work environment and has a corporate diversity plan, increasing productivity, and developing trust and loyalty.
It's estimated that around half of the working population is now made up of Gen Z and Millennials so the business case for taking an authentic approach to inclusion is clear. Does your organisation give colleagues from these generations a voice? Are you willing and able to listen, adapt and flex to make your organisation truly welcoming to all generations?
The relationship between mental health and inclusion
When it comes to mental ill-health, the business case for inclusion could not be clearer. According to Mind, work-related mental ill-health costs the UK economy up to £45 million every year through lost working days, staff turnover, and lower productivity.
The full impact of the COVID-19 pandemic on the mental health of employees has yet to be realised. Every inclusive employer should see accessible, inclusive mental health as essential for both business and ethical reasons. Many organisations have really increased the awareness and support around mental health during the pandemic. It's vital that this focus continues so all employees can perform at their best by being comfortable to share how they are feeling and what is going on in their lives.
Inclusion and The Equality Act
We can't talk about the business case for inclusion and diversity without mentioning the Equality Act. As an employer, you are responsible for people employed by you and people following your instruction (even if they are not employed by you) in terms of discrimination complaints.
Over the last year or so, there has been an increase in employment tribunals for protected characteristics such as race, age, and sex. Taking steps to prevent employees from acting unlawfully, including policies and regular inclusion and diversity training, is essential for all organisations.
Of course, alongside the business case and the legal case for inclusion, there is also a compelling moral case to be an inclusive employer.
Ensuring everyone is treated equally is simply the right thing to do.
Closing thoughts
Despite an increased focus on inclusion and diversity in many organisations, women and people of colour remain seriously underrepresented in many industries and in most organisation's senior ranks.
We also know that increasing the numbers of traditionally underrepresented people in your workforce does not automatically produce business benefits. Being an inclusive employer is about so much more than data. It's about how you bring this data to life and use it to evolve your inclusive culture.
If you need support to develop your inclusion and diversity strategy for 2022 and beyond, or if you need help with diversity management, contact your Inclusive Employers account manager or get in touch.