Join our team
We are a team of expert, passionate and dedicated inclusioneers. We are proud to be continuously developing and evolving our mission, to make inclusion an everyday reality across many organisations.
Although we do not have any current vacancies, we are a growing organisation and are often looking for talented Consultants and Senior Consultants to join our team. Please check back here regularly if you are interested in working with us.
As you'd expect, we really understand the importance of different voices, experiences, perspectives and backgrounds within all workforces. Our workforce is no different and we strongly encourage applications from members of minority groups and all sections of the community. 
We are a Disability Confident employer and offer a guaranteed interview for any disabled applicant who may wish to take up on this offer, where they meet the minimum requirements for the role.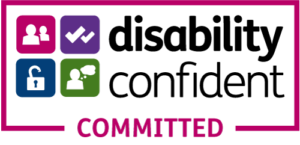 What do Inclusive Employers do?
The UK's first and leading cross-sector membership organisation,
Support employers in their goal to build inclusive workplaces and diverse workforces,
Work across the whole spectrum of inclusion,
Design and deliver training and consultancy solutions,
Work in partnership with our members so that we can bring together best practice and cutting edge thinking,
Promote innovation in inclusion,
Support businesses to gain from the social and commercial benefits of inclusion.
Listen to our podcast to find out more about Inclusive Employers from our founders.
What's it like to be part of the Inclusive Employers team?
Here are some thoughts from the team about what it is like to work here:
"Coming from a larger organisation, I wasn't sure how it would be working in a smaller team. But since being at Inclusive Employers, I've found the scope of work is very varied because of the different types of member organisations. I find being in a smaller team environment allows for ideas and voices to be heard, new ideas evolve quickly and are taken forward with pace. I feel valued for my individual contributions and highly trusted, which allows me to work flexibly and makes me want to give more back to my role."
"Extremely supportive team culture – we want each other to succeed and provide support when and where it is needed."
"I feel valued for the experience and knowledge I have to bring – it is very encouraging and confidence-boosting!"
For more jobs in the Inclusion & Diversity sector visit our careers portal DANDI Jobs.