The ultimate guide to caring for Men's Mental Health
We delve into the statistics surrounding men's mental health, why men are hesitant to seek help, and how to effectively communicate with men about their mental health.

Continue reading to find out more.
Understanding the statistics behind mens mental health
Statistics on men's mental health highlight that it is an issue that needs to be taken more seriously by men and society as a whole.
A Priory Group study of 1,000 men in 2018, found that 25% of respondents felt they would be wasting their GPs time if they went to discuss men's mental health issues with them. Despite this, 77% of respondents reported suffering with anxiety/stress/depression.
Statistics from BMI Healthcare, also add weight to the need for more openness around men's mental health issues, saying that:
Men are around half as likely as women to access psychological therapies.
Men are less likely to speak to family and friends about mental health issues.
28% of men don't seek help for mental health issues, compared to 19% of women.
75% of deaths by suicide in the UK are men.
Suicide is the most common cause of death for men under 50.
Exploring why men are hesitant to reach out
Resistance around mental health support for men seems to be, in part, rooted in stereotypes of 'alpha' men.
Preconceptions of 'manliness' equate to men acting 'tough' and not showing emotions have damaging consequences for men, and wider society. This quote from Frederick Douglass effectively highlights this:
"It is easier to build strong children than to repair broken men."

Frederick Douglass
Toxic masculinity, as these stereotypes have become known, view men's mental health issues as a weakness. This type of masculinity values stoicism, physical strength and power and does not relate positively to men valuing their mental health.
These stereotypes are damaging for everyone – toxic masculinity makes assumptions about women and people of other genders that perpetuate stereotypes, discrimination and inequality in society. The concept of men as powerful and masculine is harmful to all genders: no one benefits from this.
We can appreciate then, why some communities may be so dismissive of men and mental health. It is not a part of their value system, their language, their view of the world. By having compassion for the challenges that these stereotypes present, we can improve mental health support for men.
Why is men's mental health so important?
Men's mental health is equally important as that of women and non-binary people. The stereotypes and stigma discussed above highlight why men might be hesitant to reach out.
These challenges mean more effort may be needed to encourage men to seek support for their mental health. In order to reach out men need to overcome barriers that have been put in place by society over a long period of time, and for some this may feel like a big hurdle to jump.
The statistics clearly highlight that the need for mental health support for men exists. In 2018, a study by the World Health Organisation found that three times as many men as women die as a result of suicide.
Evidence also indicates that ethnic minority men (and women) face greater challenges than white men when seeking support for their mental health. Sadly, and perhaps unsurprisingly, this is the case across all minority groups regardless of gender. However, there are ways you can support minority groups with their mental health in your organisaton.
Men may present their mental health difficulties differently to women, so it may be less easy to identify that they have a need for support. For example, men may display feelings of anger more readily than sadness or anxiety.
These behavioural differences have been linked particularly to men experiencing depression. Anger isn't viewed as compassionately as sadness or anxiety (which is how depression may be more acceptingly manifested) and this presents another barrier towards accessing mental health support for men.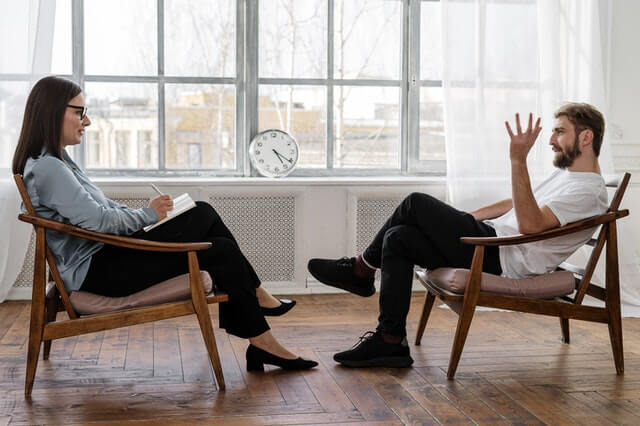 How to talk to men about mental health
We have identified that there are many reasons why some men may struggle to seek support for their mental health.
Some men may not be used to identifying emotions and feelings and so it could be challenging to share them with other people. Vulnerability is not something that is automatically associated with traditional ideals of masculinity.
A Time to Change study, in 2019, found that only 25% of men would open up to friends if they were struggling with their mental health.
This study also found a significant number of friends wouldn't feel confident to know when a friend was trying to open up.
So, how can we create opportunities for men to feel comfortable to share their feelings?
'Ask Twice' – Time to Change advocate asking twice. It can be easy for men to dismiss a check-in by simply replying, 'I'm fine'. By repeating 'how are you?' it creates another opportunity for your friend or colleague to share more and reiterates that you care.
Create a safe space – one-to-one conversations could feel intimidating and unnatural to some people. If you are trying to support someone to talk about their mental health you could try inviting them for a walk or to do an activity. This can create a distraction and be a more relaxing environment for people to share their feelings.
Encourage gentle ways to build resilience – there are a number of things we can all do to support our mental health, but when we feel overwhelmed it can be easy to forget how helpful simple things like being outside and connecting with others can be.
Reassure them support is available – there is a range of support available to support men (and everyone) with their mental health. You could encourage them to contact their GP or highlight charities that offer mental health support for men, so they know they are not alone. Specific examples are signposted below.
Where men can get help for mental health issues
As a supportive friend, colleague or family member there is a range of services that you can signpost men to, so they can get support for their mental health.
Charities
CALM: The Campaign Against Living Miserably takes a stand against suicide. The organisation is particularly inclusive of men's mental health as it recognises that 75% of suicides are by men.
Mind: This mental health charity provides support through a helpline, crisis coping tools, local drop-in services and more.
Hub of Hope: This database of support services allows you to enter your UK postcode and find the most useful mental health support in your local area. Find out more about the Founder of Hub of Hope in our mental health podcast.
Male VoiceED: A charity focused on supporting men with eating disorders.
Samaritans: This charity provides a helpline that can be contacted around the clock. They provide listening and judgement-free support for everyone, particularly those who are struggling with suicidal thoughts.
Support groups
Local groups focused on supporting men are increasingly popular. Some are specific to mental health challenges, like Andy's Man Club and others create opportunities for friendship and conversation, like Men's Sheds.
NHS Services
Help to access the right mental health support
Your local GP, they be able to provide a referal for specialised support
How to raise awareness of men's mental health as an organisation
As an inclusive employer there are many ways you can provide mental health support to men:
Consistently communicate your values as an inclusive organisation, so men (and all colleagues) feel comfortable to reach out when they need to.
Create a safe space to discuss men and mental health, by setting up a men's forum.
Empower line managers to be champions of mental health – this will help to create openness and overcome stigma.
Work with your relevant networks or internal communications channels to signpost resources and support for men's mental health.
Set up an event where Senior Leader's can role model the importance of men's mental health. This could be through sharing their personal experience of men's mental health issues, or highlighting how they practice allyship to support colleagues.
Read about these suggestions and other ways you can support men in your organisation in our International Men's Day package. This is available free to members. If you are not a member you can find out more here.
Inclusive Employers also offer a range of training opportunities to support organisations to create an understanding of mental health in the workplace and end stigma around it. You can read about them here.